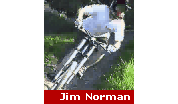 Gnarly Speed Rider Of The Month: Jim Norman

Jim Norman sped into the 1999 season with a sweet win at the first NORBA national in Big Bear and hasn't slowed down all season. Racing in the Senior Expert category, Jim has put two National Series race wins under his belt, as well as half a dozen other top five finishes. Jim just competed at the California State Downhill Championships where he rode away with second place. We're looking forward to seeing Jim tear it up in the Semi Pro category next season.

Check out this zesty, home grown video (Quicktime 2.1MB), shot by GSR friend Lee McCormack, of Jim playing in the hills around Concord.

Mach 9 Debuts At Interbike

Reno, NV - GSR president and suspension designer Mike Galeoto unveiled the Mach 9 DH frame at Interbike this past September. The Mach 9 features the burliest construction we've ever seen on an aluminum bike and some of the trickest machined parts you'll find outside NASA. With 8 1/2 to 13 inches of travel, including two inches of built-in sag, pull shock suspension and unparalleled rear end stiffness, the Mach 9 is arguably the world's longest travel downhill pedalling machine. The Mach 9 is currently going into production. Watch this site for frame availability updates.

GSR Dominates California State DH Championships

Bear Valley, CA - Once again, Team GSR kicked serious booty at the California State Downhill Championships held at the Bear Valley Ski Resort August 29. Speeding down the steep, silty, loose course in the fastest time of the day was Pro rider Scott McElroy. Finishing second to Scott in the Pro class was Jon Wilson. The fastest Semi Pro rider down the hill was GSR's own Eric Rasmussen, and Expert racer Jim Norman took second place. That makes three years in a row with a GSR rider in the top spot at this Championship event.

For more news, visit our news archive.